Tokyo Go Kart Tours offers a unique, adrenaline-pumping experience that allows visitors to zip around one of the world's most iconic cities in style.
Tour participants will have an unforgettable day as they weave through some of Tokyo's bustling streets and pass by landmarks illuminated under neon lights at night while racing other kart drivers.
Whether you're looking for an action-filled activity or just want to see Tokyo from a different angle, these tours provide something special not available anywhere else.
What Go Kart Tour Are Running In Tokyo?
At the moment there are 2 main Tours that you can take. The Shinjuku and Shibuya Go Kart tour and the Akihabara Tour. Both are a lot of fun and have great reviews but there are a few key differences that we will run you through here before you make your decision about which to choose.
Go Kaarting In Subuya & Shinjuku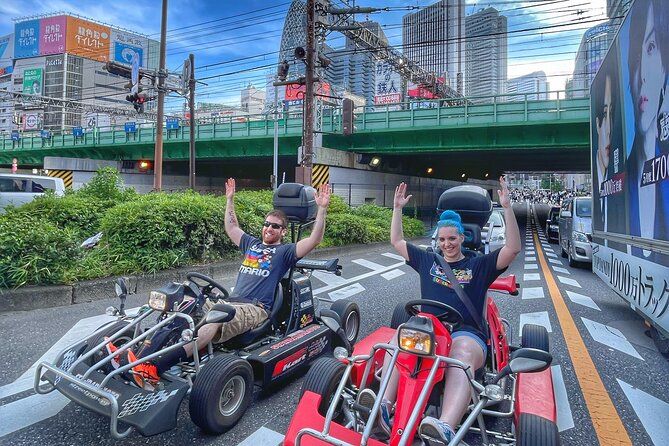 The Go-Karts Shinjuku Tour offers an excellent opportunity to explore Tokyo's lively streets in a unique and enjoyable way. One way to make the experience even more special is by dressing up in costumes.
Whether it's a classic anime character like Pikachu or Naruto, or a superhero like Batman or Spiderman, the possibilities for creative expression are endless. Dressing up not only creates lasting memories but also helps participants stand out from the crowd of regular go-karters.
Who knows, perhaps some friendly competition may arise between participants dressed differently. Regardless of the costume chosen, everyone is guaranteed to have an unforgettable time navigating Tokyo's urban landscape with an added touch of excitement.
Shinjuku Go Kart: Key Points
Enjoy a fun and quirky go-kart tour of Shinjuku in Tokyo
Pass by the iconic Shibuya Crossing
The tour includes a go-kart, guide, and photos at no extra cost
Private tours are customizable to fit your needs
Wear a cartoon character costume for the ride
Two route options: shorter one hour or longer two hours available
Drivers must show valid licenses (foreign driver's licenses accepted with translation)
The Shinjuku Go Kart Tour is a must-try experience for anyone visiting Tokyo. The tour guides are exceptional, providing valuable information about each area and capturing memorable moments with their photography skills. Even in inclement weather, the guides prioritize safety and fun, ensuring that participants have an enjoyable time.
Located not far by train from downtown Tokyo, the Monkey Karts crew offers an extensive safety briefing and provides costumes and lockers to enhance the experience.
Participants must possess an international driver's license with a passport to participate in this thrilling adventure, which is well worth the investment. The go-karts can reach high speeds, so bringing glasses and a face cover is recommended when driving at night.
Choosing the 5 pm slot is an excellent option as it allows you to enjoy the stunning Tokyo night lights and feel like a celebrity, with many people taking pictures. Of course, respecting the surroundings and others is essential, but everyone needs some time to unwind and have fun, regardless of age.
This unforgettable two-hour activity is easy to follow, with clear instructions provided beforehand, allowing maximum enjoyment. The experience is well worth trying out if you're looking for a fantastic way to see what Japan has to offer firsthand.
Shinjuku Tokyo Go Kart Reviews
The Go Kart experience on Shinjuku Tour is the perfect way to explore the vibrant city of Tokyo. With a knowledgeable and friendly guide by your side, you'll be able to drive through some of the most iconic sites in Tokyo such as Asakusa, Ueno, and Tokyo Sky Tower.
The best part? You get to do it all while riding a go-kart and dressing up in your favorite costume! With a wide variety of costumes to choose from, it's a great way to let your imagination run wild and create unforgettable memories.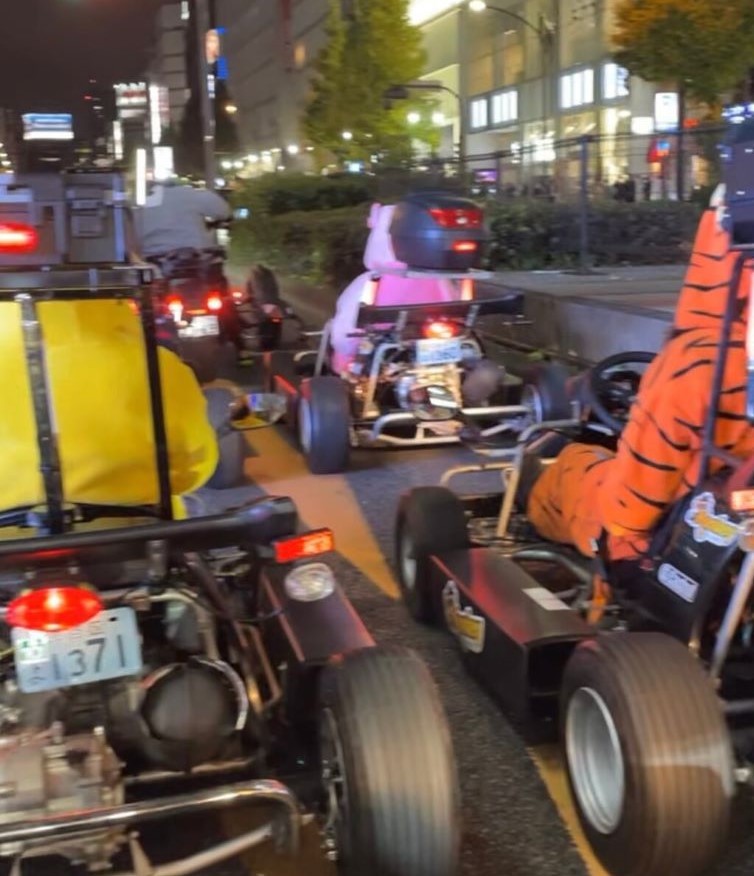 Safety is a top priority on this tour, with strict lead driver safety briefings conducted prior to hitting the road. Everyone is provided with clear road rules to ensure a safe and exciting journey around town. Although the karts can produce fumes, the experience is still epic and one of the highlights of our trip to Japan. Our guide was attentive and even captured over 100 moments during our night tour, making it all worth it.
Booking the tour through Klook was a breeze, with great prices and easy-to-use vouchers. They even provided hot drinks during the tour to keep us warm on a chilly night. We highly recommend this unique and affordable experience to anyone looking for something fun and different to do in Tokyo.
Akihabara Go Kart Intro
The Go-karts Akihabara tour is also a unique experience in Tokyo, Japan. Participants can dress up in costume and enjoy sightseeing the city from an interesting perspective. It's fun to get creative with your costumes – whether you want to go for something traditional or modern, there are endless possibilities.
Traditional Japanese kimonos offer a luxurious look while anime character cosplays will let visitors fit right into the colorful atmosphere of the Akihabara district.
Playful accessories like wigs and hats provide additional flair perfect for taking pictures along the route. There's no better way to explore this vibrant area than by dressing up as characters that embody its spirit – so grab some friends put on those costumes and have an unforgettable day out.
Akihabara Go Kart Key Points
Experience Tokyo by go-karting through Akihabara with a local guide
Cheaper than the Shinjuku go-Kart Tour
Must have a valid Japanese or International driving license
Enjoy seeing famous attractions and views of the city while riding in your own private go-kart
Akihabara Go Kart Experience
If you're searching for a unique and unforgettable way to explore Tokyo's Akihabara district, look no further than the Go-Karts Akihabara Tour. With this private guided tour, you'll zip around on a go-kart, taking in the vibrant neon-lit stores selling manga and electronics, and keeping your eyes peeled for residents dressed as anime characters.
This package includes hotel pickup and dropoff, insurance fees, food and beverages, a rental kart for a duration of your choosing, and a safety briefing. To join in on this adventure, you must have a Japanese driving license or an international driver's permit.
With a 4.9 rating on Trip Advisor, this is an experience you won't want to miss.