Looking for a sensory overload and a feeling of adventure? Then Shibuya is the perfect destination. A vibrant neighborhood bustling with life, it's considered to be one of Tokyo's most popular tourist destinations.
You'll find anything from exciting shops and restaurants, as well as some iconic sights like the famous 'Shibuya Scramble' – where up to 2,500 people cross at once during peak times – or the Hachikō statue honoring an extraordinary dog's loyal friendship.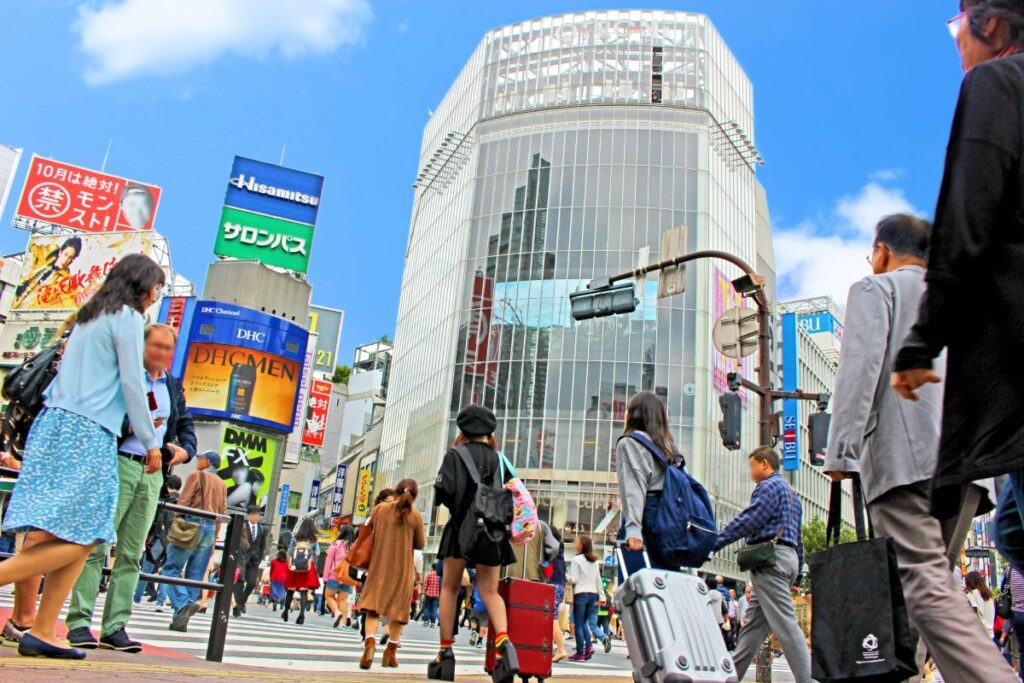 Not only that but there are also plenty more attractions such as walking around Yoyogi Park; visiting the modern shopping center known locally by its nickname '109′; exploring Meiji Shrine which honors Emperor Meiji & Empress Shoken.
Enjoy a cocktail while overlooking dazzling night views at the all-new Shibuya sky or purchase unique souvenirs in Denki-gai (Electric Town), or stroll along the cozy Cat Street street full of cool boutiques and offbeat fashion stores.
The possibilities seem endless in this lively district. So why not come join us on our journey to discover what makes Shibuya truly special?
Shibuya SKY
The Shibuya SKY Observation Deck is a unique experience, located on the roof of one of Tokyo's shopping malls. From this observation deck, visitors can take in an incredible view that gives them a bird's eye perspective over all the hustle and bustle down below.
Visitors often go for sunset to enjoy watching as the city lights up beneath their feet – it truly feels like you are standing at the top of world.
On clear nights you may have luck spotting The Fuji from here too – making your visit even more special. If heights aren't your thing there are still plenty of other activities: why not order something delicious from Sky Restaurant & Bar or explore some fascinating interactive exhibits?
No matter what activity you choose, make sure to snap some pictures because these views need to be shared with friends and family back home.
Shibuya 109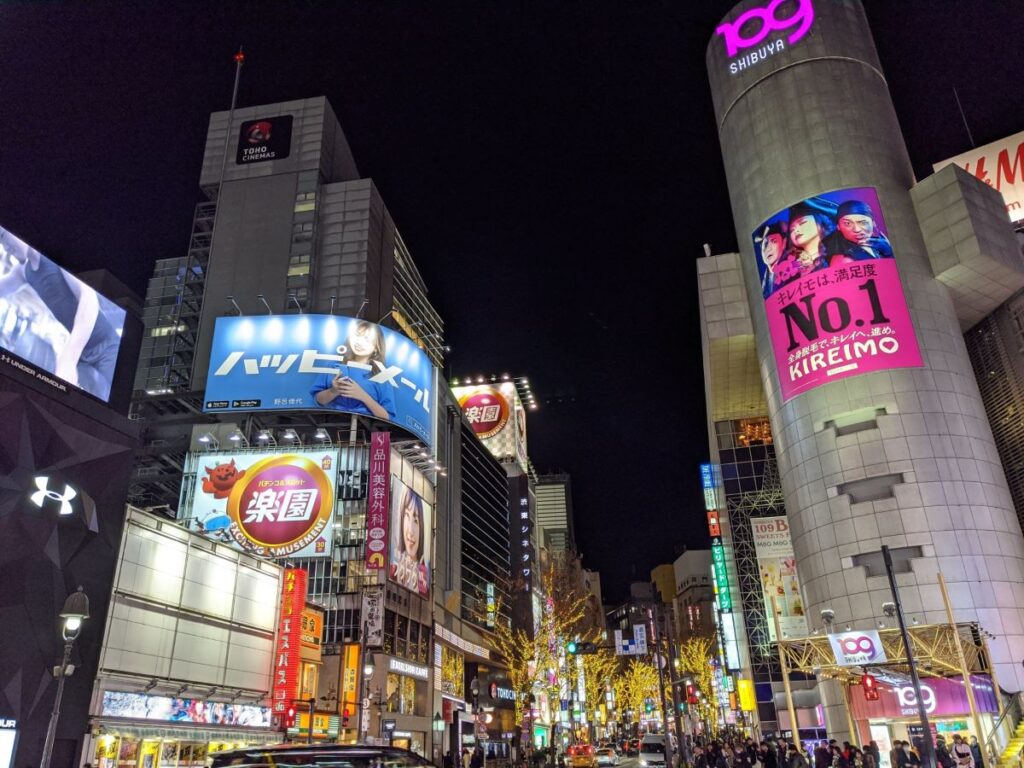 Shibuya 109 is an iconic shopping center located in Tokyo's retail hub known as Shibuya. Home to over a hundred fashion retailers, it's one of the most popular places for young shoppers looking for cutting-edge clothing and accessories.
The building easily stands out from a distance with its eye-catching neon signs and innovative architectural design. Inside you'll find everything from vintage apparel shops to kawaii-inspired concepts featuring statement pieces like bubblegum pink faux fur coats or tartan print trousers.
You won't be short on choice at this fashionable landmark, providing countless opportunities to experiment with different styles – making it highly appealing particularly among teenagers and young adults who want their style to stand out from all others around them.
Cross The Shibuya Scramble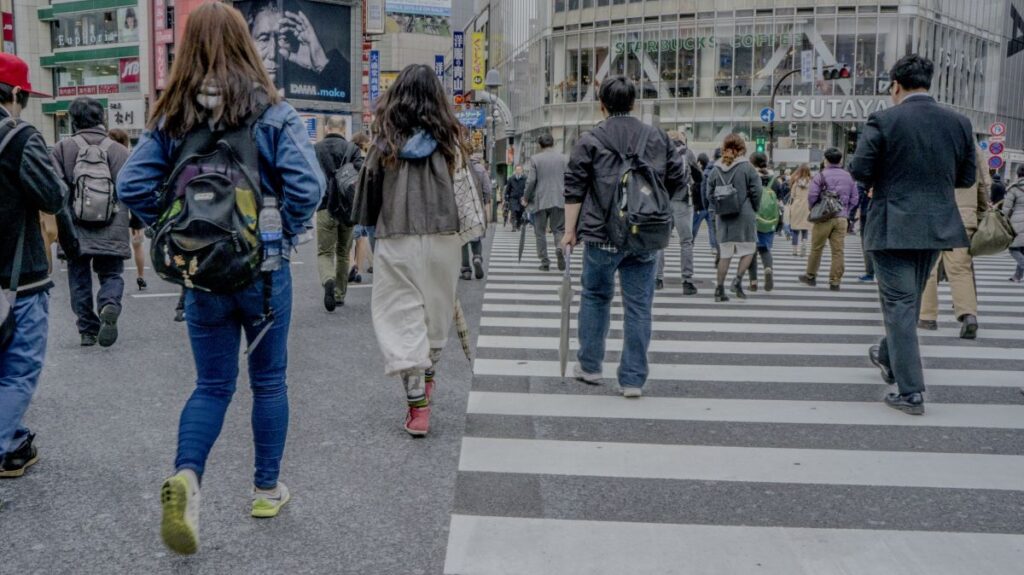 Shibuya Crossing is a famously chaotic intersection located in Tokyo, Japan. Every time the lights turn red, up to 2200 pedestrians flood into the streets from all directions. You might have seen it featured in movies like Lost In Translation because of its organized chaos.
It's also been dubbed "the Scramble" due to how quickly people rush across before cars return on a green light and cut their path off again.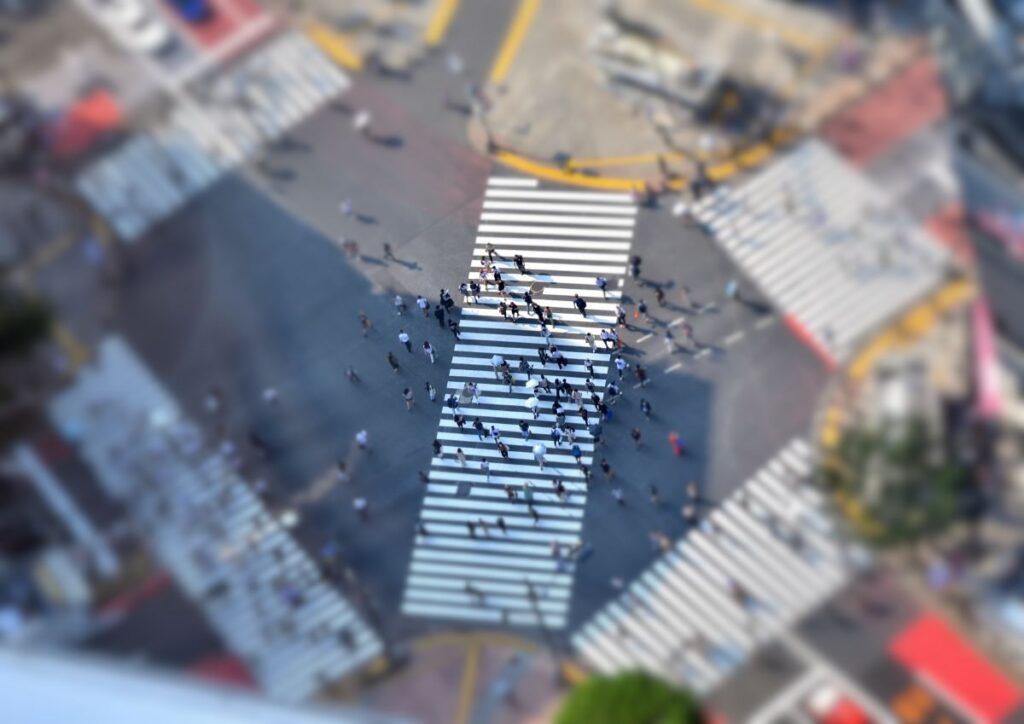 This vibrant junction brings together bright neon signs while you can hear music mixed with ambient chatter; creating an unforgettable atmosphere that will keep your eyes peeled for interesting sights during every visit – there are plenty.
So if ever you take a trip to Tokyo, be sure not to miss out on this unique urban experience at Shibuya crossing – no two visits are alike here and so one could spend hours just observing human behavior alone.
Go On a Bar Hopping Tour
There are so many hidden gems in Shibuya that you would never know existed without being shown them. That's why Shibuya is the perfect place to take a night tour.
This bar hopping tour is really popular and will take you to some great places.
More: Check out this tour on Viator
Walk The Streets Of Harajuku
Harajuku is an area in Tokyo renowned for its eclectic fashion and vibrant culture. This colorful district has something unique to offer every visitor – from traditional shrines, eccentric boutiques, all-night diners, vintage arcades, and cat cafes.
Here you can explore the diverse Harajuku scene with over 160 shops selling anything from retro clothing to modern streetwear. Don't forget to take a selfie at one of the iconic landmarks like Takeshita Street or Meiji Shrine while exploring Harajuku's creative energy that draws thousands of tourists each year.
Aside from shopping opportunities galore, there are plenty more exciting activities such as visiting nearby Yoyogi Park; participating in Japan's largest cosplay event on Sundays – "Cosplayers' Paradise", experiencing stylized kawaii treatments like nail art salons & eating crepes under rainbows – making it truly an unforgettable trip.
Cat Street
Harajuku's Cat Street is a shopping paradise for fashionistas and foodies alike. This popular street has been attracting crowds of shoppers since the Meiji era, and continues to remain one of Tokyo's trendiest neighborhoods today.
Filled with boutiques selling everything from clothing to accessories, as well as cafes specializing in Instagram-worthy desserts like rainbow toast or matcha soft serve ice cream – there are plenty of fun things on offer here.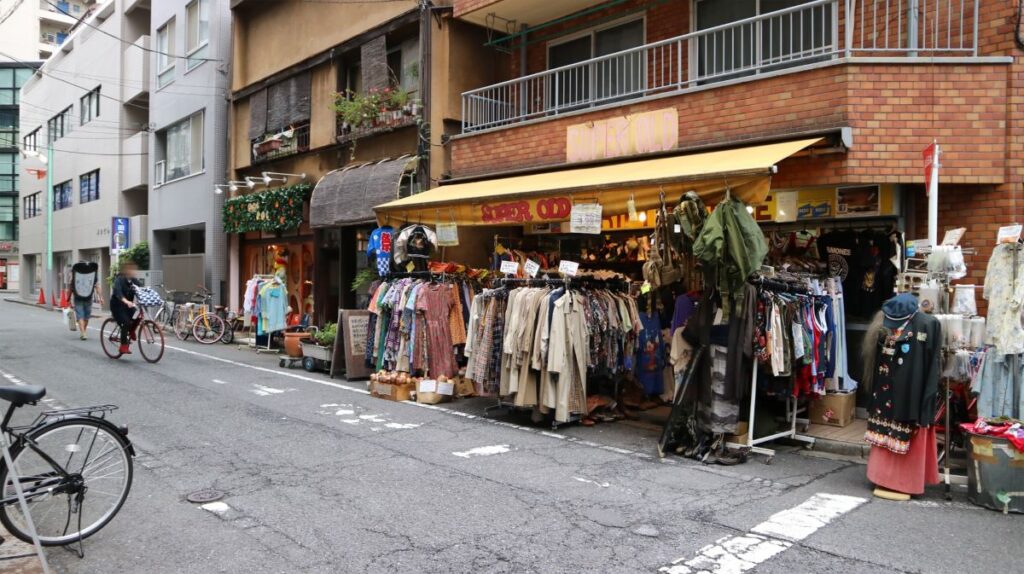 Not only can you find some great deals but also explore interesting pop-up stores that line both sides of the narrow road which often feature artwork by local artists displaying their latest designs.
With so much happening all around – it comes as no surprise why Harajukus' Cat Street remains such a lively area that always keeps its loyal patrons coming back for more.
Get A Little Bit Posh In Omotesando
Omotesando is a fashionable street in Tokyo full of trendy cafes, shops, and restaurants. When you walk down this shopping district, the eye-catching boutique stores along with stylish architecture will take your breath away.
There are high-end designer labels like Louis Vuitton on one side while there are many smaller independent art galleries nearby showcasing unique pieces by up-and-coming designers.
With its cool yet calm atmosphere it's perfect for anyone looking to get some retail therapy or just relax over coffee & snacks at one of the well-known cafés here – especially Kiddy Land which has been around since the 1950s.
You could even visit quirky-themed museums such as FROGGY celebrating all things frog-related throughout Japanese culture if that's more your speed. No matter what brings you here, Omotesando definitely promises an interesting experience worth exploring.
Takeshita Street
Takeshita Street is a mecca for the young and hip in Tokyo. Located in the bustling Harajuku district, it's one of Japan's best-known fashion hotspots, famed for its eclectic style ranging from punk to cosplay.
The street was created when a historically wealthy family called Takeshitas donated half an acre of land towards unifying Omotesando Boulevard with Meiji Dori Avenue into what we now know as Takeshita Street.
Here you'll find trendy clothing stores selling everything from t-shirts to lolita dresses; purikura machines where teenagers can take photos together; crepe stands that offer unique flavors like banana chai or strawberry cheesecake; and many more attractions drawing huge crowds each day.
Whether looking for souvenirs or just out sightseeing, everybody should make time to experience this iconic destination at least once.
Nezu Museum
The Nezu Museum is a must-see art museum in Tokyo. It houses an impressive collection of Japanese and East Asian Art, including ceramic teaware from the 16th century and many traditional paintings by renowned masters.
What's truly unique about this museum though, is its garden – one of Japan's oldest surviving strolling gardens that date back to 1702. With streams flowing through it and ponds stocked with koi fish, it provides a tranquil setting for appreciating both nature and artwork at once.
Visitors can also explore fascinating artifacts like ancient samurai swords or ritual masks within the galleries for an even more immersive experience of Japan's rich culture.
Konno Hachimangu Shrine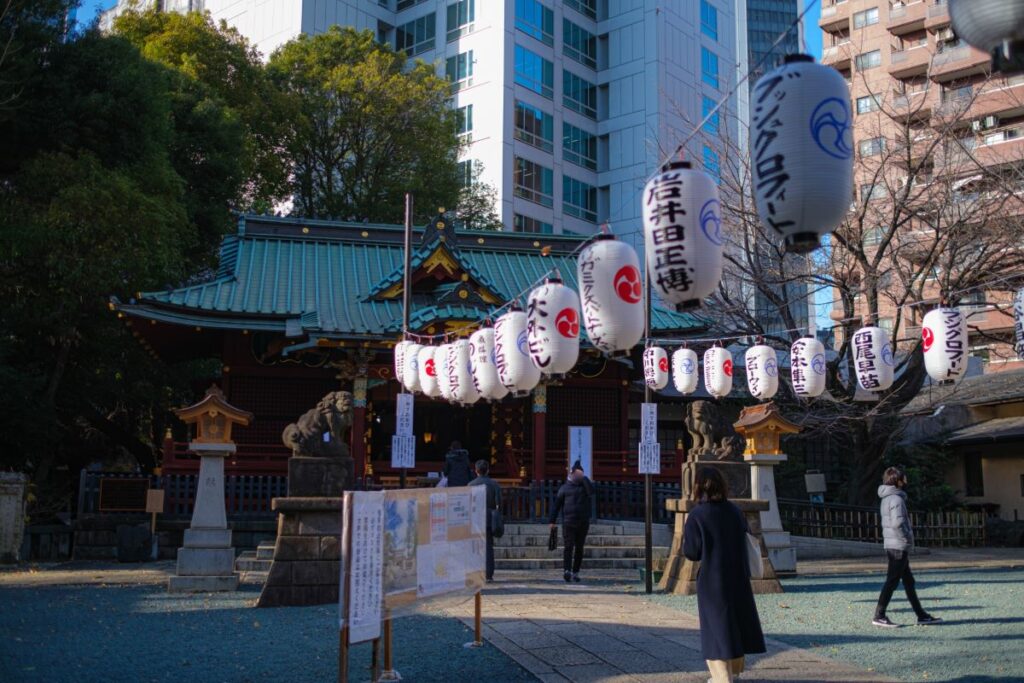 Konno Hachimangu Shrine in Shibuya is a traditional and beloved site. It's said to have been founded over 1,200 years ago by Emperor Seiwa himself. Additionally, it's the birthplace of shishimai (lion dancing), which has become an important part of Japanese culture today.
During festivals they host yabusame—archery on horseback—and mikoshi-nagashi: portable shrines floated along Meguro River for good luck. A visit to Konno shrine offers visitors glimpses into its fascinating history as well as cultural experiences you can't find anywhere else.
Yoyogi Park
Yoyogi Park is one of Tokyo's most popular parks. Located near the trendy Harajuku district, it draws many tourists from around the world.
This park offers numerous attractions; you can have a picnic on its lawns while enjoying live music during summer festivals and watching people dance to rockabilly tunes at Yoyogi Village.
If you're lucky, maybe even catch an impromptu taiko drum performance in front of Shibuya Station as part of Japan's well-known Matsuri festival season. It also features relaxing walking paths surrounded by lush greenery and jogging tracks – perfect for staying healthy too.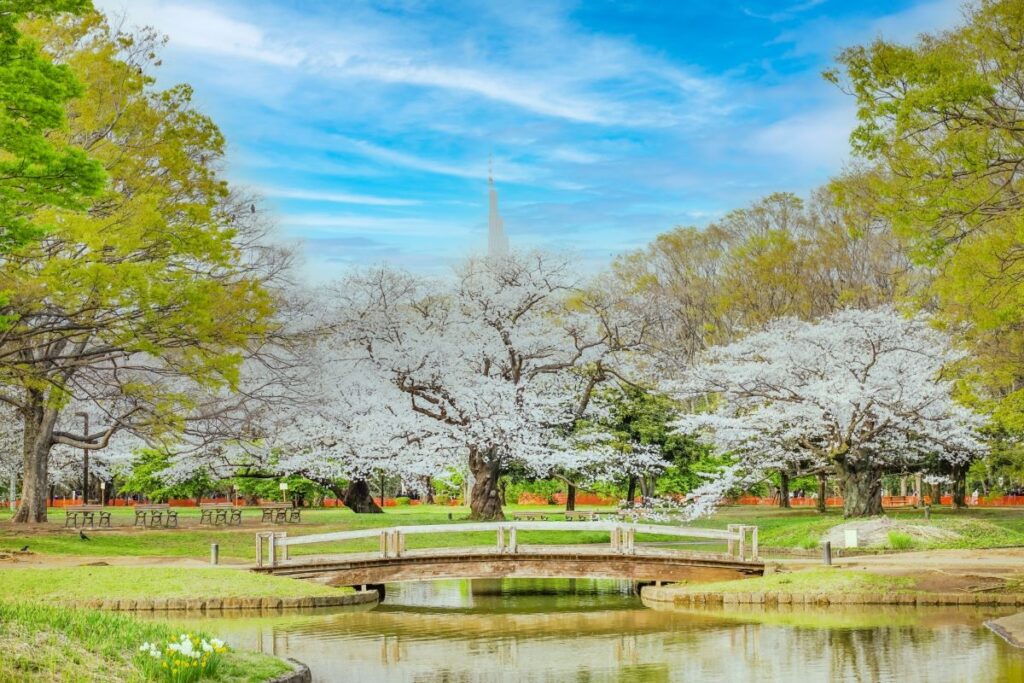 So come explore all that Yoyogi has to offer—from culture to nature—it really has something special for everyone.
Meiji Jingu Gaien
Meiji Jingu Gaien is a massive park located in the heart of Tokyo, Japan. It's one of several parks that make up Meijii Shrine and was built to honor Emperor Meiji and Empress Shoken after their death in 1912.
The area covers about 80 acres with many unique features; including 8 main gates each adorned by 2 guardian figures called Kongorikishi from Indian mythology, as well as an elegant inner garden featuring 2000 cherry trees.
On sunny days visitors can sit near the fountain at its center or explore nearby attractions like National Stadium Okinawa Main Island Baseball Hall's museum for baseball memorabilia & artifacts.
Every autumn brings hordes of tourists who flock here just to view spectacular displays such as Gingko Trees turning golden-yellow leaves during mid-November before they fall covering the ground under the tree canopy into the beautiful carpet.
Truly no words sufficiently describe this must-visit destination when visiting Tokyo town.
Feel The Loyalty Of Hachikō The Dog
Hachikō is an iconic symbol of loyalty in Japan, and has been commemorated by the Hachikō Memorial Statue outside Shibuya Station. The bronze statue stands to remember a remarkable real-life story: In 1924, a loyal dog named Hachi waited day after day at the same station for his owner – who never returned from work again.
To honor this inspiring tale of devotion, people come every year to lay flowers around the memorial monument on April 8th – what would have been Hachi's 14th birthday.
It's said that even now when passing through Shibuya one can still feel spirit and warmth coming off 'the faithful dog' standing there with its head slightly tilted towards sky as it waits forever…
Center Gai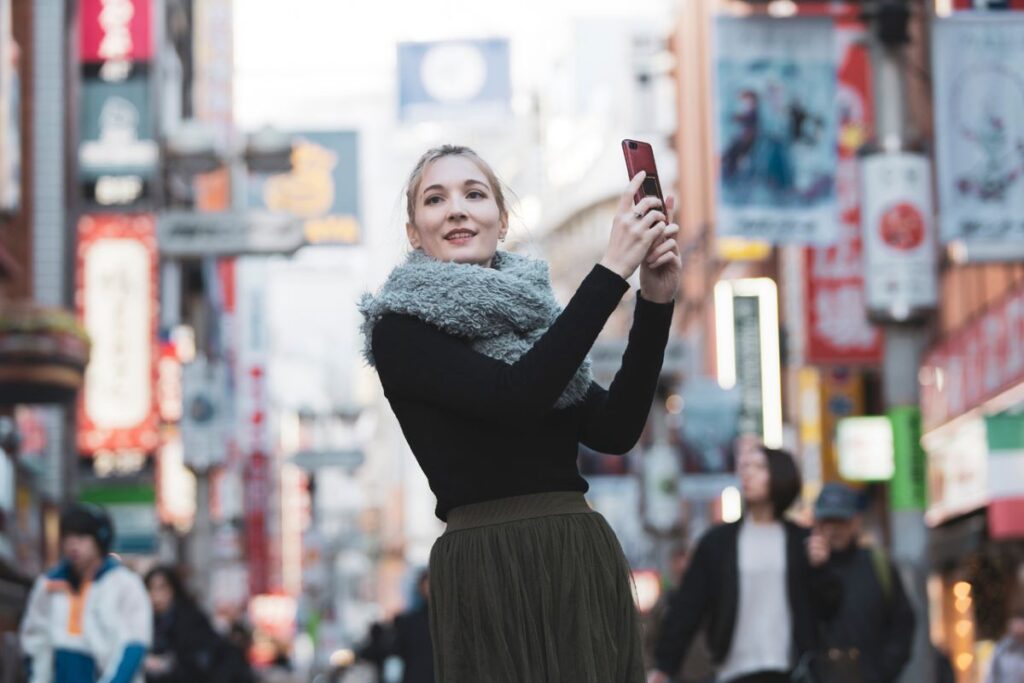 Shibuya Center Gai is a well-known shopping district in Tokyo. It's known for its youthful atmosphere, with many stores targeting the younger generation as well as numerous restaurants and cafes on every corner.
The renowned crossing of Shibuya Scramble also adds to this unique experience – it's said to be one of the busiest intersections in all of Japan. Other specific points of interest include Hachiko Square, where visitors can take pictures beside the world-famous statue that commemorates a man's loyalty towards his pet dog; and Tower Records Building which has stood there since 1983.
As you walk around here you will often feel like partaking in an exciting adventure even when just out the window–shopping too.
Have a Drink in Drankard's Alley
Shibuya Nonbei Yokocho is a colorful corner of Tokyo famous for its nightlife. It's known to locals and tourists alike as the 'Drunkard's Alley', with an almost entirely pedestrianized street full of small bars, pubs, and restaurants giving it an old-Town atmosphere.
From cozy hole-in-the-wall joints to some slightly more upscale establishments serving exquisite Japanese delicacies there is truly something here for everyone.
Yoyogi Hachimangu
Yoyogi Hachimangu is a Shinto shrine in Tokyo which was built in the year 1659. It houses an important ancestral god for the Japanese people, Emperor Ojin, and has undergone 3 restorations since its original construction.
People from all over Japan come to visit it and pay their respects here on New Year's Day as well as on weekends throughout spring when the cherry blossoms are blooming to witness magnificent festivals taking place annually like Hanamatsuri – A festival celebrating Buddha's birthday with cultural activities full of joy.
Visit The Spanish Slope
Spain-zaka Slope, in Shibuya, Tokyo is a popular attraction. This 370-meter-long sloping street has been featured as the backdropor iconic setting of countless movies and TV dramas due to its nostalgic appeal.
It consists of small alleys lined with unique shops including cafes serving traditional food like takoyaki and croquettes made from local ingredients. There are also many souvenir stores selling specialty items such as sandalwood fans or Japanese kimonos which make great gifts for tourists.
The slope also features well-maintained cherry blossom trees that bring even more beauty to this picturesque destination making it an ideal spot during hanami season (cherry blossom viewing).
Knock Back Some Yebisu Beer
The Museum of Yebisu Beer Shibuya is a unique experience for all. Located in the heart of Tokyo, it showcases an interesting history of one of Japan's beloved beer brands with its interactive museum exhibits displaying brewing techniques and bottling processes from way back when.
The most fun part is an on-site tasting room where visitors can try different styles or create their own custom brews. It's not only educational but also immensely enjoyable – a great spot to stop by if you're looking for something out of the ordinary during your travels through this vibrant city.
The Shoto Museum of Art
The Shoto Museum of Art, located in the vibrant district of Shibuya, is one that many art enthusiasts should be familiar with. It has a rich history and offers a wide variety of exhibitions both from leading Japanese artists as well as international ones to create an intercultural dialogue about fine arts.
In addition to featuring valuable artwork from world-famous painters such as Monet or van Gogh and sculptures like Rodin's "Thinker", visitors can also experience live performances at special events held regularly throughout the year.
For example for its 30th anniversary, this cultural establishment hosted jazz concerts by renowned musicians including Jamie Cullum, offering unique insights into how classical music intertwined with contemporary Western styles.
Thus it stands out among other museums not only due to its impressive selection but through innovative projects that enable deeper engagements between people and culture alike – making sure each visit will leave lasting memories.
See The Stars At The Cosmo Planetarium Shibuya
This is an awe-inspiring exhibition of outer space, complete with a state-of the art digital projection system. It showcases stunning visuals from over 120,000 stars and galaxies to experience like never before. The planetarium also features interactive exhibits that take viewers on a fun cosmic journey – from comets to constellations – as well as exciting shows related to science such us demonstrations about solar flares or eclipse phenomena. This truly one-of-a-kind venue makes for an unforgettable educational outing for kids and adults alike.
Is Shibuya Worth Visiting?
Undoubtedly, Shibuya is well worth a visit. This vibrant Japanese city located in Tokyo's metropolitan area captures the magic of Japan's fashion and culture from neon-lit skyscrapers to busy crosswalks filled with locals and tourists alike.
The district has something for everyone – shopping malls, restaurants serving up traditional cuisine as well as stylish cafes offering some of the best ramen bowls around.
From its iconic Hachikō statue that welcomes visitors at every turn to Yoyogi park where one can take a peaceful stroll amidst blooming cherry blossom trees or bustling nightclubs offering an unforgettable nightlife experience.
whatever your interests may be there will definitely not be any dull moments during your trip here.
Enjoy Shibuya
Overall, Shibuya has so much to offer all kinds of travelers. From the colorful culture that makes it Japan's center stage, great shopping and dining experiences in quirky neighborhoods like Takeshita-dori street or exploring futuristic technology at Miraikan Museum—Shibuya is an exciting place with a wide variety of activities and sights to be explored.
Whether you are looking for authentic Japanese cuisine or want to immerse yourself into electronic music clubs on weekends – there's something special waiting around every corner in the vibrant district.
No matter what your style may be – this megacity will open its arms wide open as long as you take away some unforgettable memories from one of Tokyo's most amazing cities.