Mount Fuji is a magnificent site to behold that draws visitors from all over the world.
Fuji-San as it's lovingly referred to towers high above its surrounding landscape at 3776 meters and has been considered sacred for centuries by Japanese people due to its breathtaking beauty and serene presence in their culture.
If you are planning on visiting Tokyo, then it's worth taking some time out of your itinerary to visit this majestic mountain as well. Here we'll guide you on how to do it.
Getting there may seem like an overwhelming task if you've never done it before – so here we will provide an overview of how you can get from Tokyo to Mount Fuji with ease via public transportation such as trains or buses available directly from Shinjuku Station or taking by joining a day trip run by specialized tour companies that do all the planning.
Here are your Options for traveling to Fuji Trom Tokyo
The Fuji Excursion Train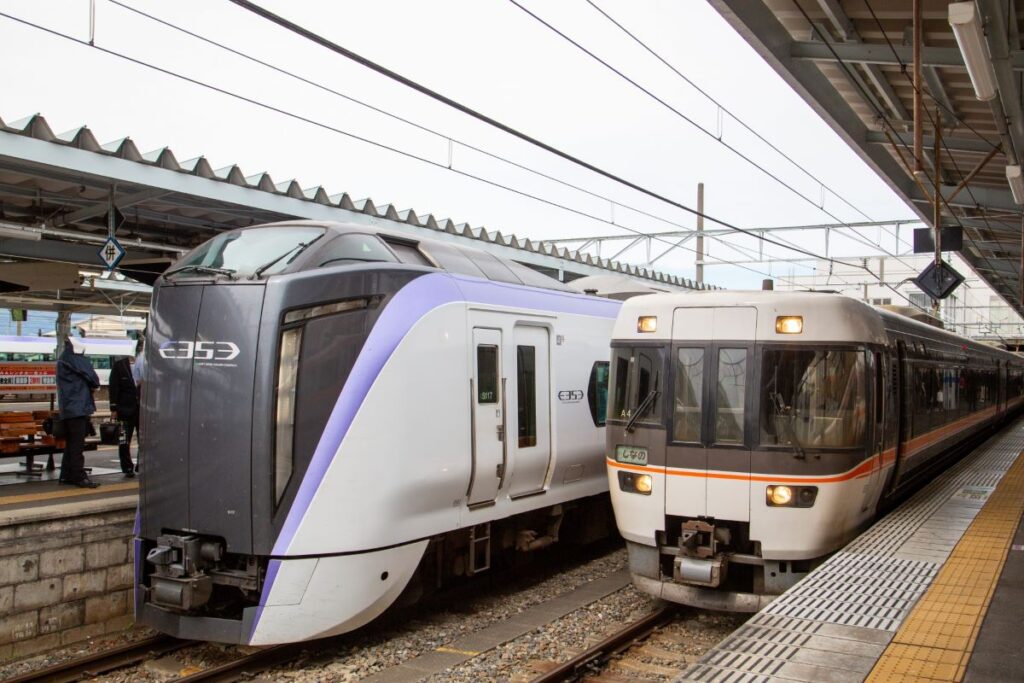 The Fuji Excursion is a new train that has quickly become a popular route to Fuji. It connects the bustling city of Shinjuku in Tokyo and Mount Fuji in under 2 hours and is a great option for most.
The fare for this journey costs depends on your seat type and whether you have a JR rail Pass or not. This convenient one-way trip starts out along the Chuo line and takes approximately two hours along scenic routes through rural areas just outside Tokyo and on up towards beautiful views of Mt Fujisan
Pros:
A direct connection between two major tourist destinations
Quick travel time – only 2 hours from start to finish
Enjoyable scenery throughout the ride
Affordable fares
Cons:
Limited stops en route so passengers cannot enjoy sightseeing at smaller towns or villages
Slightly More expensive than the bus
Only 3 services per day
Booking may be required
Bus To Mount Fuji
The Fuji Kyu-ko bus is a great way to travel from Shinjuku to Mt. Fuji for those looking for the cheapest option. The fare for the one-way trip on this express bus service is just 2,000 yen and it takes about two hours.
It's an easy journey with several departures each day from Shinjuku Station West Exit Bus Terminal and Tokyo Station. There is also a bus that runs straight from Narita Airport but it is currently not running due to covid 19.
All buses have air conditioning and restroom facilities onboard so passengers can enjoy their ride in comfort all the way to Fuji.
Take A Day Tour Of Mount Fuji
Tokyo to Fuji on a day tour is the third option and is one of the most popular ways for travelers to experience Japan's majestic Mount Fuji. This scenic route takes you from Tokyo, through various small towns in Yamanashi Prefecture to mount Fuji and a number of the attractions we'll be listing here and back again – all in just one day.
A tour will cost between 9-20 thousand yen ($80-$180 USD) per person making it a pretty good option.
Especially for those who don't mind being part of a larger group while still enjoying great views and attractions along the way, taking a bus might offer good value compared to other options such as private cars or tour guides.
Things To Do Near Mount Fuji
As we said, if you're looking for an unforgettable adventure, then a trip to Mount Fuji won't disappoint. With its towering peak and stunning vistas, it's no wonder that people flock from all over the world to experience this unique destination.
There are so many amazing things to do near Mount Fuji! Whether it be exploring the haunted Aokigahara Forest or Narusawa Ice Caves, taking in the views from the famous Subaru Line 5th Station, paying homage at Fujiyoshida Sengen Shrine, or admiring the amazing Shira-Ito Waterfall a trip to Mount Fuji will provide memories guaranteed never to be forgotten.
Here are some of the best things to do on your trip to the majestic Mount Fiju area.
Chureito Pagoda
The Chureito Pagoda, located in Fujigoko Japan is a towering reminder of the legacy and beauty that can be found in Japanese culture. Standing at nearly 400 feet tall, this five-story structure offers stunning views from its observation deck over Yamanashi Prefecture.
Put up as part of Arakurayama Sengen Park which was built by Emperor Meiji for his deceased father on April 5th, 1961, the pagoda stands today as a symbol honoring those who perished during World War II; amongst them were family members whose names remain inscribed on plaques near its base.
The contrast between these tragic memories against Fuji's iconic silhouette makes visiting here an unforgettable experience indeed. One filled with solemn emotions but also admiration towards nature itself!
What makes Chureito so distinctive compared to other monuments elsewhere around the world is how perfectly intertwined modernity has been together within traditional structures like this – creating something quite spectacular even when viewed up close.
Mt. Fuji Panoramic Ropeway
Mount Fuji is one of the most beautiful and majestic landmarks in Japan, and a ride on the Mt. Fuji Panoramic Ropeway will take you to new heights and give you a great view.
This incredible ropeway takes passengers up 1,000 meters from the base station at Kawaguchiko-Yoshida (near Lake Kawaguchi) all the way to Mount Tenjo observation deck for spectacular views over Mt.Fuji's peak.
As its name suggests, this cable car gives visitors an unparalleled panoramic view of Fujisan's slopes with seemingly endless horizons stretching out before them as they travel along their path up Mount Fuji.
The journey begins by boarding your 'gondola' cabins which have been specially designed so that everyone can enjoy unobstructed 360-degree vistas through large windows – perfect for capturing memories or watching dramatic cloud formations framed against snow-capped peaks!
Finally when reaching the destination point near the summit area; Kengamine Peak Observatory Deck located within close proximity offers grand scenery looking down upon forests below combined with breathtaking views across lakes all of course with Mt Fuji in the background.
Oshino Hakkai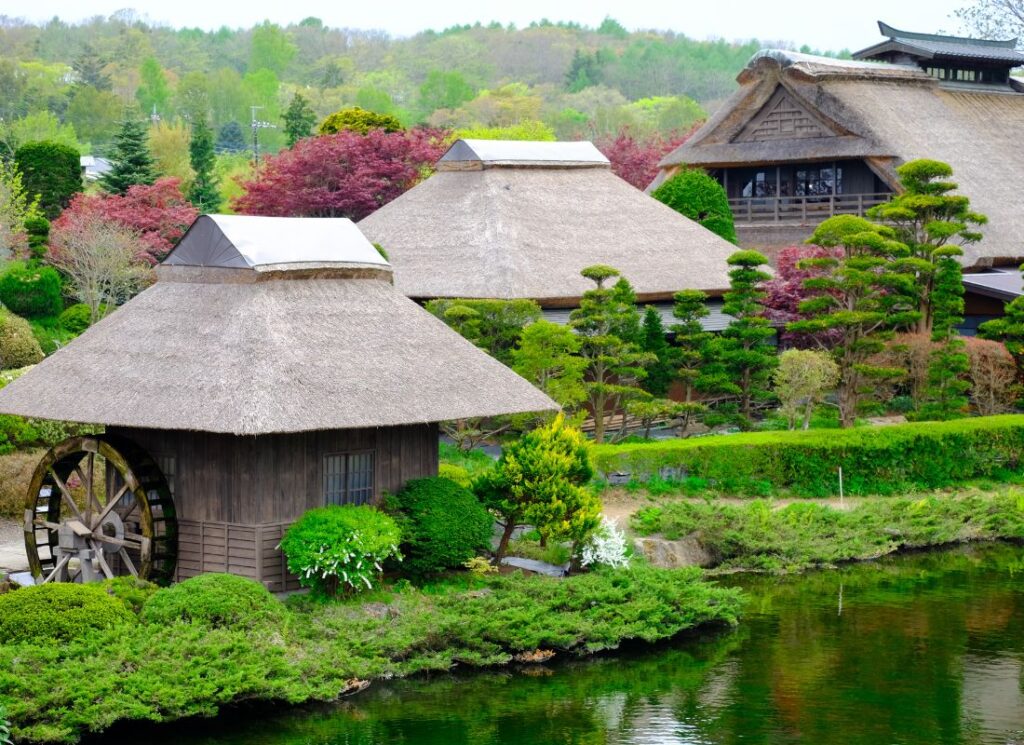 Located at the foot of Mount Fuji, Oshino Hakkai has been a popular spot for visitors to take a dip and relax since ancient times. It consists of three large lakes, joined together by streams that form pools where people can soak their feet or bathe in naturally warm waters created by geothermal activity underneath them. The water temperature ranges from 40°C down to 25-30°C.
One particularly interesting feature about Oshino Hakkai is its famous "eight wonders", eight unique ponds located within the area with distinctive shapes such as stars or hearts that were formed over many years due to mineral deposition around each pool after the evaporation processes.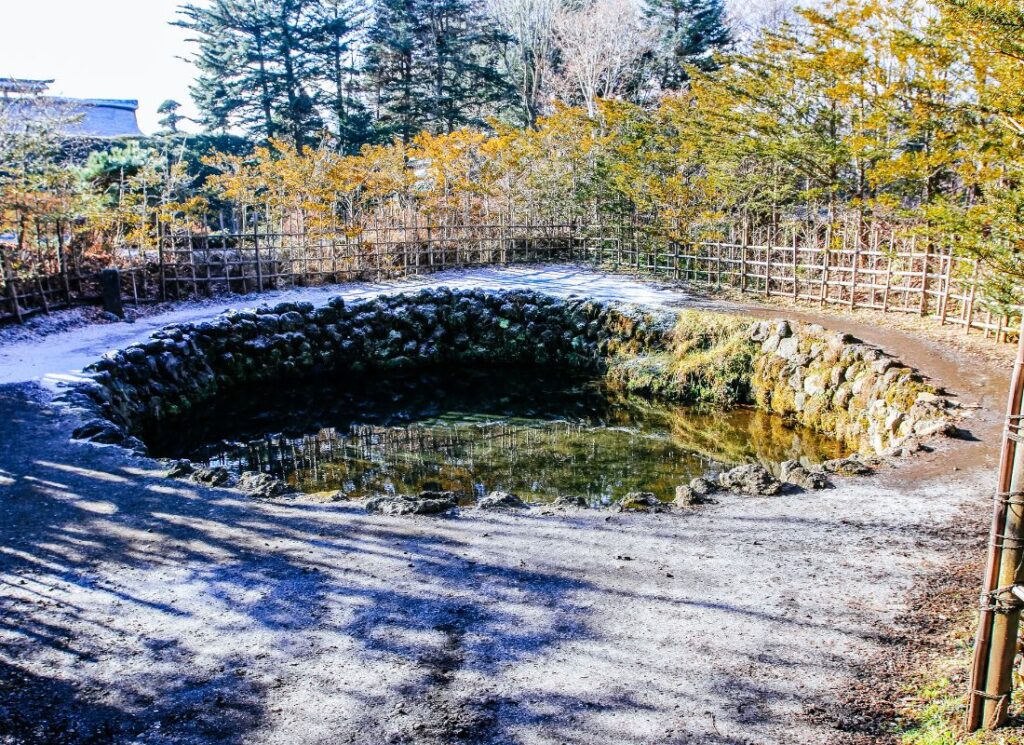 Locals believe these formations bring good luck and there's even one called "Lotus Flower Pond" due to its shape resembling that flower when seen from above. Apparently, this pond brings special blessings towards finding true love if you make your wishes here!
Also noteworthy are two shrines on-site dedicated respectively to Shinto goddess Konohanasakuya Hime and Buddhist god Yakushi Nyorai; they attract hundreds of worshipers every day who come seeking divine guidance related to either health issues or financial prosperity matters among other things.
It seems like coming here makes all kinds of requests possible for believers.
Climbing Mount Fuji: A Japanese Adventure
For the adventurous traveler, climbing Japan's iconic Mount Fuji is a must-do experience. The climb can be done over two days and usually takes 6–8 hours each day with breaks along the way to rest or snap some unforgettable photos.
It's best undertaken between July 1st and August 17th when conditions are most favorable for climbing.
Detailed preparedness is key before starting your ascent as you'll need plenty of water, appropriate clothing (a warm fleece in case it gets chilly), snacks, and comfortable walking shoes that provide proper support on uneven surfaces.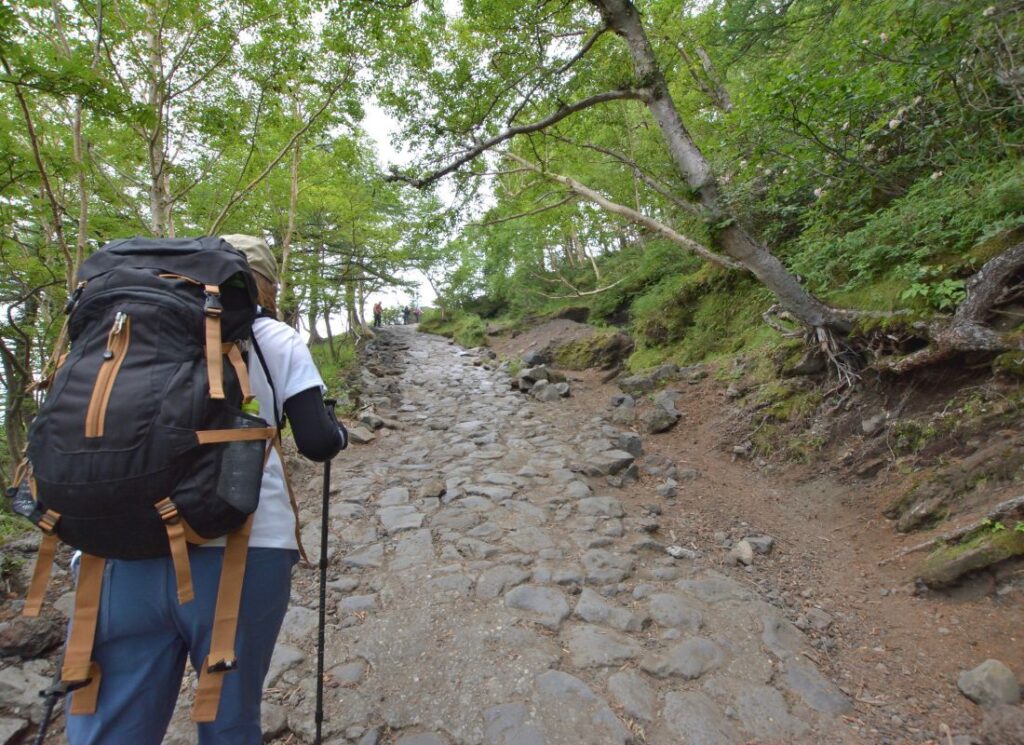 Other necessary items include head torches if you plan to start earlier than dawn and trekking poles for extra stability on tricky trails where loose stones abound!
Once at the summit hikers often take part in traditional rituals such as chanting sutras from Buddhist scripture or writing their wishes onto small pieces of paper – an enchanting moment amidst stunning views!
Whether looking for breathtaking natural vistas or memorable cultural experiences making this timeless pilgrimage promises something truly special – so why not test yourself by tackling Mt Fuji?
Fuji-Q Highland
Fuji-Q Highland is an amusement park situated at the foot of Mount Fuji in Japan. It features a variety of thrilling rides, attractions, and shows that appeal to visitors of all ages.
The most popular attraction is Toshin Rafting Log Flume Ride, offering guests the chance to experience the serene landscape surrounding Mount Fuji while taking on speedy drops and steep slopes along rapids.
Other top picks include
Dodonpa – one of the world's fastest roller coasters with speeds reaching up to 172km/h
Eejanaika – boasting 14 loopings for dizzying thrills
Monster Coaster U G Force 2000 – featuring 1363m track length with both loops & tunnels
Takabisha: Seven Inversions Rollercoaster – giving riders that much-needed adrenaline rush as they spin through its 7 heart-stopping inversions
Whether you are looking for family fun or intense thrill experiences, there's something everyone can enjoy at this amazing theme park!
Mount Fuji Line 5th (Sky Palace)
Mount Fuji is the highest peak in Japan, and its fifth station has long been a destination for adventurers looking to take on this majestic mountain. The Sky Palace at Mount Fuji's 5th Station stands tall atop an altitude of 2,305 meters above sea level.
Here you can witness stunning sights such as snow-capped peaks that stretch far into the horizon or catch glimpses of rare birds soaring gracefully across azure skies.
On clear days you may even be lucky enough to spot Mt Tateyama from here! For those who are feeling more adventurous, there are numerous hiking trails with breathtaking views awaiting exploration – all within easy reach from your base camp at the Sky Palace.
The Narusawa Ice Cave
The Narusawa Ice Cave is an iconic natural wonder near Aokigahara Forrest that has a captivating history, and its frozen stalactites share the tale of centuries past.
This cavernous palace displays ornate structures of white-blue ice that have formed over time due to the airflow within this cave.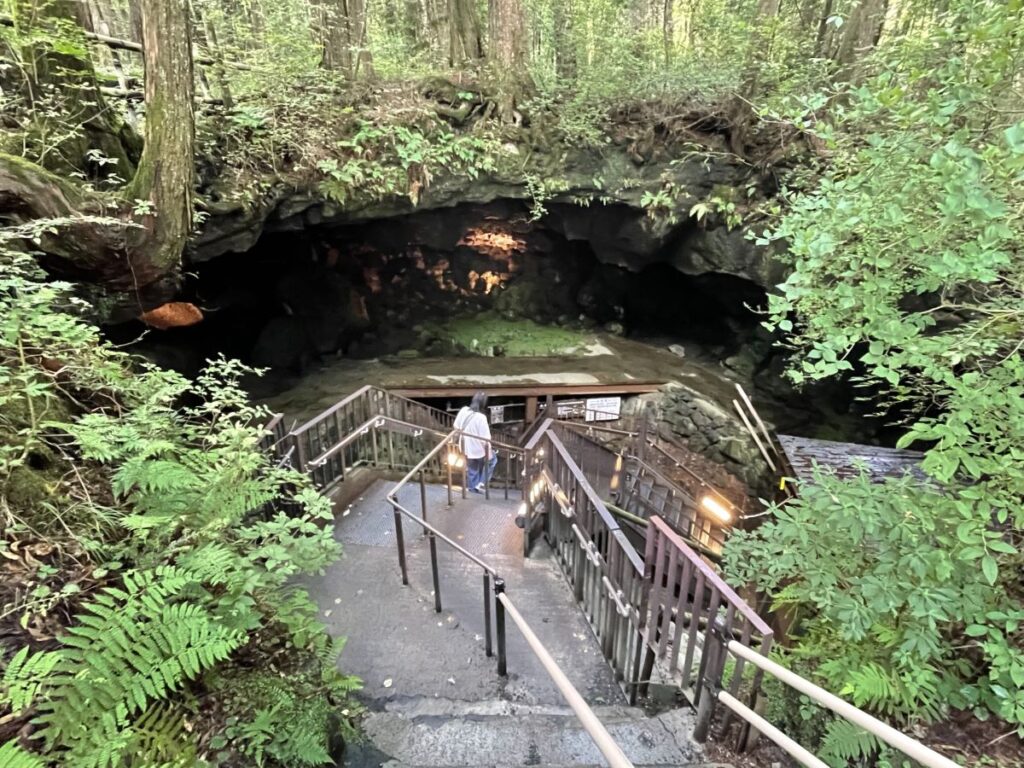 Constantly circulating air from outside freezes forming one large mass—a thing of beauty! The temperature inside stays at a cool -7 degrees Celsius ensuring these formations remain intact for us to explore and be awed by.
There are also two sections: 'The Front' with bright lights enabling visitors to take great photographs and appreciate every detail, while 'The Back' offers some darkness which makes it easy for one to feel as though they've gone back in time when entering this magical realm.
Not only does Naurusawa offer majestic sights but you can even hear faint gushy noises coming from underground springs emerging through fissures found scattered around the area giving rise to otherworldly impressions – definitely not a forgettable experience indeed.
The Mysterious Aokigahara Forest
Aokigahara, Japan's mysterious forest located at the base of Mount Fuji is a place shrouded in mystery. It has long been associated with mythology, folklore and numerous legends that have captivated visitors over time.
The dark wooded area seems to be always caught in twilight — no matter what the hour or season may be. Along with its vast dense vegetation, this ancient woods also houses some strange natural phenomena such as wind caves shaped like giant pots which are said to carry voices from beyond.
Gotemba Premium Outlets
Gotemba Premium Outlets is the largest outlet mall in Japan and offers some of the best shopping experiences. Its breathtaking mountainous backdrop juxtaposed with modern architecture appears almost surreal.
Founded in 2000 by Mitsubishi Estate Co., Ltd as part of their 'Urban Valley' development project it has since grown to include over 200 shops, restaurants, and services spread across two floors covering a total area of 29 hectares.
Whether you are looking for stylish fashion brands such as Gucci or Coach, or discount bargains from Uniqlo and Puma – Gotemba premium outlets are likely to have something that suits your style!
You can also find items ranging from outdoor gear for your climb-up fuji (such as Columbia Sports) all the way through to beautiful homeware pieces at Muji. If you're feeling hungry there's a wide selection of Japanese and international cuisine available
Oishi Park
Oishi Park is a scenic park that offers breathtaking views of both Fuji's majestic peak as well as Lake Sai and Kawaguchi-ko which are nearby. The best time to visit Oishi Park for a full appreciation of its beauty would be April – May when cherry blossom trees bloom in abundance or October – November when you can enjoy autumn foliage with vibrant shades of reds, oranges, and yellows.
Pro Tip: If you're too late to catch the cherry blossom in Tokyo you may still catch it here as the elevation is almost 1000m leading to a later blossom.
There's plenty to explore at Oshi Park; there's the Koyoji temple that features historic buildings from around 300 years ago while nature trails offer further opportunities to explore.
Fuji Shibazakura Festival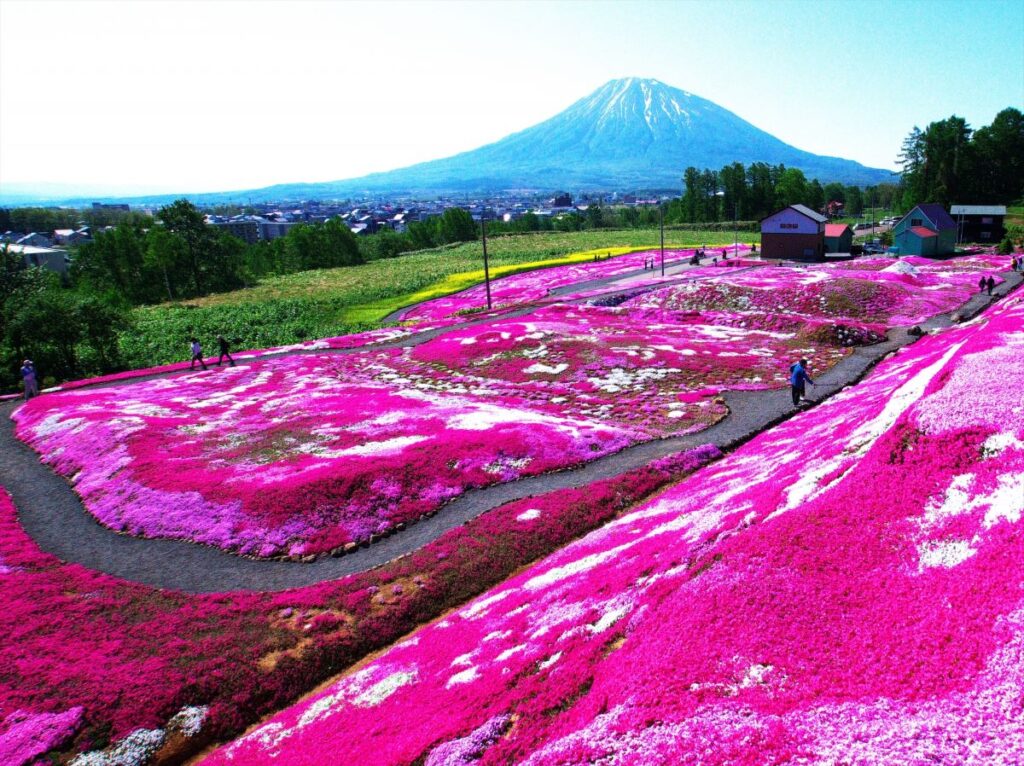 The Fuji Shibazakura Festival is an annual event that takes place at the base of Mount Fuji. It's a magical sight to behold with the lush hillsides blanketed with thousands and thousands of shibazakura, or pink moss phlox flowers.
In springtime, these vibrant blooms emerge across hidden valleys around Lake Motosu creating a spectacular carpet-like effect reaching as far as the eye can see
The festival draws massive crowds every year who come for its breathtaking beauty and take photographs set against backdrops of majestic mountains and blue skies dotted with fluffy clouds above.
Whether it be admiring views of exquisite plants or simply indulging yourself silly sampling delicious treats available during festival days one thing is sure your experience won't soon forget!
Where to Stay in the Fuji Kawaguchi Area?
The hotel resorts surrounding Lake Kawaguchi are renowned for offering some of Japan's most majestic and breathtaking views of Mt. Fuji.
Whether travelers are looking for luxury accommodation or seeking an immersive experience with traditional Japanese culture – there's no shortage of quality lodging options near both Fujikawaguichi Station and Mount Fuji itself.
Day Trip vs Overnight Stay at Mt. Fuji
With so much to explore amidst spectacular natural scenery, visitors often question whether they should do a day trip from Tokyo or stay overnight for further exploration up close and personal with Mt. Fuju's unique charms.
A day trip allows one to catch some stunning views as well as take part in some of the activities we've looked at but you there won't be time for all.
On the other hand, those who have more time can opt for longer durations and enjoy both sunrises & sunsets from different angles when staying overnight at nearby accommodations like Fujisan View Hotel where hot springs are also available after long treks.
Ultimately, it depends on how much time you have, but whether you are in the fuji area for a day or a week, one thing is for sure. It will be nothing short of unforgettable!